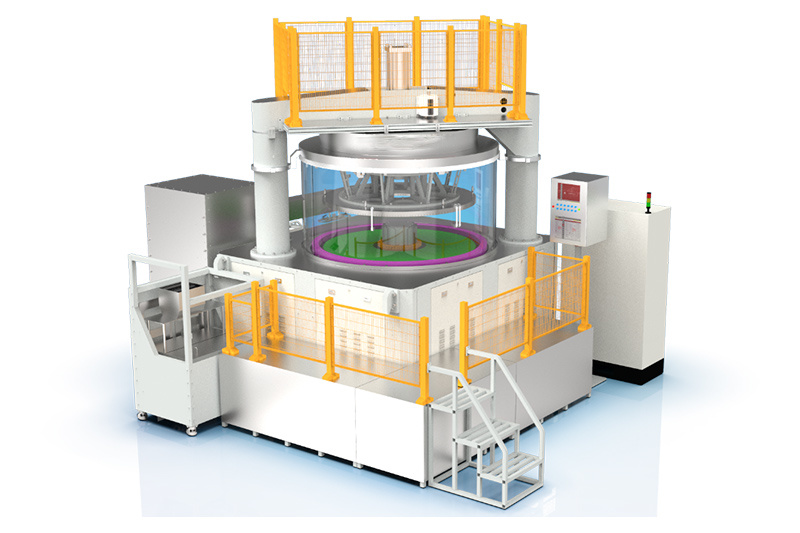 GC-SELA812
Semiconductor Silicon Wafer Double-sides Grinding Machine
---
Semiconductor Cutting Equipment
This equipment is used in double-sides grinding for semiconductor silicon wafers. 35 pieces of 8-inches silicon wafers or 15 pieces of 12-inches silicon wafers can be placed in one plate. With the hydrostatic rotary table, it is characterized with following advantages like strong bearing capacity, small power loss and long service life, etc.; in addition, its lubricating medium can play roles of vibration damping and error averaging with high precision and good precision assurance.
1.Mechanical Part

Equipment Body Size

Approx. 3200(L)x2950(W)x4250(H)mm

Equipment Footprint

Approx. 6000(L)x5500(W)mm

Equipment Weight

Approx. 28000kg

2.Specification, Quantity and Precision of Processed Silicon Wafers

Size of Silicon Wafer

8 inches and 12 inches

Qty.
8 inches

35pieces/ plate

12 inches

15pieces/ plate

3.Technical Parameters

Lower Plate
Size of Lower Plate

Φ1870mm×Φ650mm×70mm

RPM of Lower Plate

3-40RPM

Upper Plate
Size of Upper Plate

Φ1870mm×Φ650mm×60mm

RPM of Upper Plate

3-13RPM

Sun Gear
Rotating Speed

3-30RPM

Outer Gear
Rotating Speed

3-30RPM

3-30RPM

Lifting Stroke of Upper Plate

550mm

4.Air Source

Required Compressed Air

Dry air

Required Air Pressure for Air circuit Components (MPa)

0.4~0.6
Key word: Photovoltaic | Semiconductor | Silicon Carbide | Sapphire | Magnetic Materials | Silicon Wafer Cutting Service
---
Qingdao Gaoce Technology Co., Ltd.
---

Address: No. 66, Chongsheng Road, High Tech Industrial Development Zone, Qingdao, Shandong, China, 266114
Subsidiary Companies →
Business Contact →
---
Copyright © 2023 Qingdao Gaoce Technology Co., Ltd. SEO
---
Qingdao Gaoce Technology Co., Ltd.
---

Address: No. 66, Chongsheng Road, High Tech Industrial Development Zone, Qingdao, Shandong, China, 266114
Subsidiary Companies →
Business Contact →
Copyright © 2022 Gaoce Technology SEO